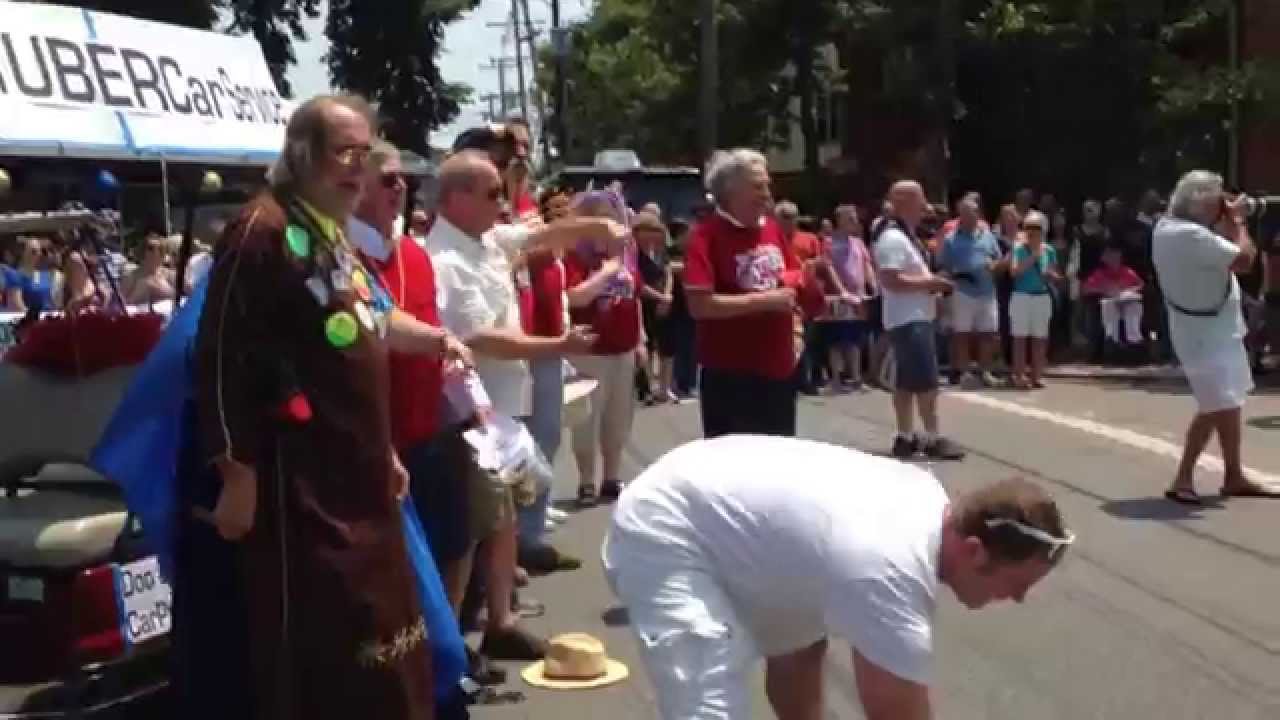 PARADE LINE-UP:
Park Street @ 12 Noon (Enter in from W Goodale St - on Park St N towards Buttles)
Parade Route
(1:00 p.m. start): Starting at Park St, W on Buttles Ave, S on Dennison, W on Collins, N on Neil Ave, E on Second Ave, S on High St, and end at Russell St.
IDEAS FOR PARKIN' DA CAR:
Lot Next to Skully's Music-Diner (High Street) 2019/DhStt4OXto-13.jpg

Lot Next to Convention Center (High Street) Plus, they have a new garage on Goodale!

Streets behind Giant Eagle (Thurber Drive)

Lot across the street from Zeno's (3rd Avenue)

Hubbard Avenue School (Wilbur Avenue - 1 block North of Hubbard) 104 West Hubbard-PTO fundraiser.

Any street that is NOT on the parade route and has permit parking BECAUSE IT'S A HOLIDAY AND PERMIT PARKING IS WAIVED on 7/4!)

The Hub Parking Garage (near Union Food + Cafe')

Parking garage behind Mike's bar (corner of Buttles & High)

Pizutti Garage (on Russell between High & Park)

CoGo Bikes

Ride your bike.

COTA/CBus it.

There's several parking garages in Arena District. Stop in at Park Street Tavern or City Tavern in Italian Village (a parade contributor) for a refreshment on the way to up line-up

Parking is allowed IN Goodale Park, but NOT on the grass - Don't be a Grasshole! If you plan on parking in the lots of Goodale Park, arrive very early before line-up closes off the entrance. There's also a parking lot on west side of park coming in off Dennison Ave.

On Goodale Blvd (along the south side of the park) are TONS of parking spaces. - Meters are free on 7/4!

Parking garage in South Campus Gateway - walk down or take COTA (remember - Holiday hours)

Don't park, stick a sign on your car and drive IN the Doo Dah Parade! It's Free! No Registration!
Don't hold us responsible for parking tickets.
If you drive, you must be able to read...
Read the darn signs/meters to make sure it's legal and maybe free too!
DOO DAH PARADE 2023 – SPECIAL EVENT STREET CLOSURES
National Anthem @ 1 pm followed by the 40th Annual Doo Dah Parade! Tuesday, July 4, 2023. Line-up at noon.
PARADE ROUTE:
• ROLLING STREET CLOSURE | | July 4 | from 1:00 p.m. - 3:00 p.m.
1:00 p.m. 40th Annual Doo Dah Parade! Come march in it or watch it! No Entry Fee, just join in!
Parade Route: Starting at Park St, W on Buttles Ave, S on Dennison, W on Collins, N on Neil Ave, E on Second Ave, S on High St, ending at Russell. Cars go straight, walkers turn right.
BLOCK PARTY: In Goodale Park at the Gazebo (Park St from Buttles to E Lincoln)
• STREET CLOSED | Monday, July 3 | from 9:00 p.m. - July 4 at 10:00 p.m. – for set up
Block Party from 11:00 a.m. – 8:00 p.m. July 4th. – it's free! Come and enjoy live music at Gazebo.
PARADE LINE-UP: Park Street
• STREET CLOSED | July 4 | 12 Noon.
Parade Line-up on Park Street between Buttles Avenue and Goodale Street, heading north.
By 11:00 a.m. it is almost impossible to get through to Park Street via Buttles Avenue.
Park Street between Buttles & Lincoln will stay closed until 10:00 p.m. Only residents of Victorian Gate will be allowed through for residential parking at any time, except during parade line-up.
NO PARKING (RESIDENTIAL AREA):
• NO PARKING ON PARADE ROUTE | July 4 from 12 p.m. to July 4 to 3:00 p.m.
RUSSELL STREET: BECOMES 2-WAYS!
Between High and Park Streets (July 4th)
• Parking Garage to remain open at all times.
• Until About 1 p.m. traffic going to the parking garage will exit/enter only to High St. No thru traffic to Park St.
• Around 2 p.m. - Police will determine when the line-up area is clear, garage traffic will exit/enter only to Park St.
• Once the parade is complete. Russell reverts back to its original one-way traffic.
PARKING "ZONES" – TO BE CLOSED:
July 3rd from 6:00 p.m. through July 4th at 10:00 p.m.
• Park Street (west curb) from Buttles to Goodale.
July 3rd from 6:00 p.m. – July 4th - 3:00 p.m.
• High Street from 2nd Avenue to Russell – East and West side of street.
• 2nd Avenue from High Street to first alley – North and South side of street.
• Russell Street - Between High St and Park St.
• Pearl Alley - Between Lincoln & Bollinger
Of course, if the City worker has a work emergency or traffic issue, times of bagging and unbagging could alter without public notification.
We are all doing our very best to make this an enjoyable event for all, with the least amount of inconvenience for anyone.
CLEAN-UP ON AISLE 4
Clean-up crews will make their rounds along the parade route (even before the parade starts and will continue until we are done). Please do not expect all trash to be picked up 5 minutes after the parade. If you see some trash that is driving you crazy and you can't wait for us, feel free to bend over and pick it up and throw it away. Thank you.
If you are hosting a party at your house; please be sure to have your own trash receptacles. We cannot provide you with one, and volunteers won't go on private properties for clean-up.
FREE T-SHIRTS & WHISTLES!!
Have a front row seats to the Doo Dah Parade by becoming a Volunteer for Doo Dah as InSECURITY!! Help with clean-up / parade monitoring / crowd control. It's easy & fun!
Register to volunteer
for your street corner at www.DooDahParade.com or jackiegleason@gmail.com. Let us know you live there, and you might be able to get your supplies in advance.